I've had my Apple Watch for about three weeks now, and I love the device. I wear it everyday and find it makes using my iPhone more convenient. Nothing about the watch feels rushed; but there is room for improvement. Here are some observations about the watchOS user interface:
Good: Attention to Beauty
While following the same guidelines set out with the iOS 7 aesthetic introduced in 2013, the Apple Watch OS designers pay special attention to beautiful and more aesthetically pleasing layouts for screens. Watch apps often create a circular shape which pays homage to traditional watch interfaces. While the stark minimalism of iOS can sometimes be off-putting, watch interfaces were designed to be beautiful to wear. The watch designs achieve this without sacrificing usability.
The similarity of the alarms, timer, world clock, and stopwatch app icons make finding the right app on the home screen particularly difficult.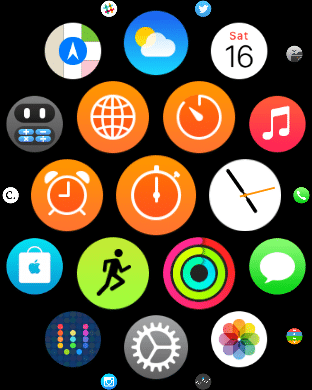 Good: Force Touch
Apple marketing has paid much attention to the digital crown; however, I have found Force Touch to be a more innovative and effective interaction. Being able to press any part of the screen to initiate an action is easy. The physical feedback makes the gesture memorable and gives it weight. One might complain that menus and important functions are hidden behind Force Touch, but I've found these actions easy to remember because they usually represent a creation or configuration task as opposed to simple viewing of data.
Bad: Basic Calendar App
In the midst of many feature-rich apps such as Messages, Mail, and Music, the Calendar app stands out as overly basic. Tapping anywhere on the calendar view presents the same list no matter where you tap. You cannot navigate to other months, add events, or view past or current week of events. Events are nicely differentiated if they belong to different calendars, but there is no way to switch between calendars or even just show one calendar. I'm surprised this app didn't have more functionality added to it initially.
Good: Customizable Watch Faces
The level of customization available for the watch faces is impressive and quite useful. Showing my next calendar event is helpful for keeping track of the day. Given the difficulty in opening apps, having a shortcut to open the timer is helpful for when I'm cooking. I also like that you can remove all complications and create a super minimal watch face.
Bad: No Battery Percentage While Charging
This seems to be the worst oversight in the Apple Watch interface. While charging, there is no easy way to view the battery charge percentage without unlocking the watch and opening the glance. There is a charging indicator on the home-screen but no indication of how much the watch is charged. In order to use Apple Pay, your watch must have a passcode enabled, and it is quite difficult to enter a passcode, especially while the watch is on a charger instead of your wrist. Hopefully this is remedied in a future update.